April 4, 2023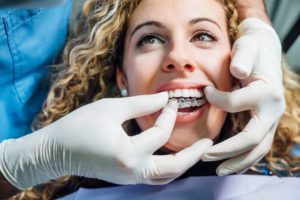 The New York Post recently wrote an article regarding a survey done by OnePoll about how people feel about their teeth. They reported that a whopping 61% of Americans want to change something about their smile. What did they want to change? One of the top things reported was the crookedness of their teeth. Fortunately, Invisalign has made it possible to straighten your pearly whites discreetly, conveniently, and comfortably! But what if you just want to just fix your top teeth? Here's what to know about only using Invisalign for one arch of teeth.
So, Can You Treat Only the Top Teeth with Invisalign?
To get "straight" to the point, yes, you can just use Invisalign for your top arch of teeth! However, your dentist will only recommend this for certain dental issues. Generally, Invisalign aligners are worn on both your top and bottom teeth to gradually straighten them and align both arches properly. Only one arch treatment would be recommended based on how your teeth come together and the overall needs of your smile.
Straightening only your top teeth would be possible if you have:
Only minor spacing or gaps
Slightly crooked front teeth
A single misaligned tooth
Need follow-up treatment for previous orthodontic treatment
The smile zone (the teeth that are visible when you smile) needs a small adjustment
So, while partial Invisalign treatment is possible, it is only recommended with specific dental circumstances. If the tooth movement is minor or only for aesthetic purposes, an aligner for only your top teeth (or bottom) is an option. You can share your smile goals with your dentist during your consultation and after a thorough examination, they can determine if this is a possible option for you.
What Are the Challenges with Single-Arch Treatment?
The main concern with only treating one arch of teeth with Invisalign is impacting how your teeth bite together (occlusion). Your upper and lower arch of teeth have a specific biting pattern and relationship. There are certain pressure points that occur when your opposing teeth come together. When only one arch is treated with Invisalign, there is an increased risk of changing the pressure points and perhaps making them hit each other harder. This can lead to issues like toothaches, the wearing down of teeth, and TMJ (temporomandibular joint) issues.
While it is possible to treat just your top teeth with Invisalign, only a consultation with your dentist will determine if that's best for your smile. With their help, they can guide you to the best option to align your pearly whites.
About the Author
Dr. Darrick Castleberry and his team at The Castleberry Center are eager to help you with any of your smile concerns and goals. As a former dentist with the United States Marines, he maintained the oral health of over 3,200 Marines and Sailors and was awarded several medals for his service. He has been recognized by H-Texas Magazine as one of the top cosmetic dental offices in the nation. To schedule a consultation, contact him through his website or call (281) 320-9600.
Comments Off

on Can You Straighten Just Your Top Teeth with Invisalign?
No Comments
No comments yet.
RSS feed for comments on this post.
Sorry, the comment form is closed at this time.