December 4, 2021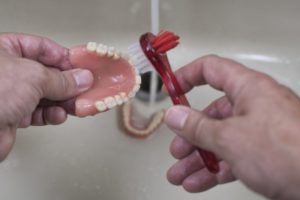 You've taken such great care of that 2005 Ford GT you bought new at the dealership. You always wanted a supercar, so when you finally had the money saved up, you went for it. The way you've kept that vehicle clean, had it regularly serviced, and driven so carefully, it's no wonder it still looks as great today as the day you bought it.
This is an admirable approach to caring for items in your life, and it can really help you save money to have more discretionary income. Whether it's a huge purchase like your car or home, or maybe a smaller investment like your charcoal grill or your dentures, why not take great care of these items and extend their shelf life?
Caring for dentures properly will keep your smile looking sharp, ensure they fit well, and help them last. Read on to learn about effectively cleaning your dentures, plus some other tips when you are not wearing them, from your dentist in Houston.
(more…)
Comments Off

on Tips on Caring for Dentures to Extend Their Lifespan
Older Posts »