August 5, 2023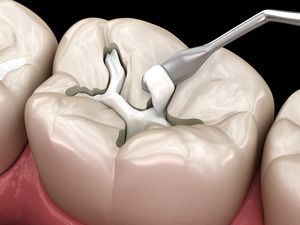 At one point in time, metal amalgam was the material of choice for dental fillings. However, nowadays you'll find that many dentists favor tooth-colored fillings made out of composite resin instead. Why should you choose a tooth-colored filling over an amalgam one as a restorative option? To answer that, here are 5 distinct advantages that tooth-colored fillings have to offer.
1. An Improved Appearance
The aesthetic benefits of a tooth-colored filling are self-explanatory. Why get a dark-colored filling that will attract the wrong kind of attention when you can get a restoration that blends in with your natural smile. The composite resin used for tooth-colored fillings can be shaded in order to match the enamel of the tooth in question. As such, not only will you be able to repair the damage caused by decay, but you will also be able to maintain a dazzling smile.
2. Preservation of Your Enamel
To make sure that an amalgam filling stays in place, it is typically necessary to remove some of your enamel. Meanwhile, composite resin can directly bond with your tooth. As a result, tooth-colored fillings leave more of your enamel intact, making them the more conservative option.
3. No Reactions to Temperature Changes
Since amalgam fillings tend to be conductive, they can make your teeth more sensitive to extreme temperatures. On top of that, heat can cause your metal filling to expand while cold can make it contract; these changes in size could end up damaging your tooth in the long run. However, a tooth-colored filling won't come with any of these issues, making it a safer option for your smile.
4. No Issues with Metal Sensitivity
Around 10% to 15% of people have what's known as metal hypersensitivity. If you happen to be sensitive to mercury, silver, tin, or copper, having an amalgam filling placed could potentially be problematic. In contrast, it's very rare to be sensitive to composite resin. As such, anyone who is unable to get an amalgam filling due to sensitivity may still be a viable candidate for a tooth-colored filling.
5. No Mercury
While amalgam fillings containing mercury have been deemed safe by the American Dental Association, many people would prefer to avoid this metal as much as possible due to health concerns. A tooth-colored filling gives you a mercury-free option for repairing cavities and protecting your tooth from further harm.
Are you thinking that a tooth-colored filling is just what you need to restore the health of your smile? Get in touch with your dentist today to learn more about the treatment and see if it's really the best option for you.
About the Author
Dr. Darrick Castleberry is a Houston native who served as an Amphibious Special Operation's dentist with the United States Marines. Today, he helps his patients at The Castleberry Center in Louetta restore the health of their smiles with tooth-colored fillings and other treatments. To schedule a consultation with Dr. Castleberry, visit his website or call (281) 971-3440.
Comments Off

on 5 Advantages of Choosing a Tooth-Colored Filling Over an Amalgam Filling
No Comments
No comments yet.
RSS feed for comments on this post.
Sorry, the comment form is closed at this time.