February 3, 2020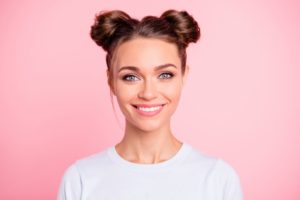 Your New Year's resolution was to be a more confident person, but so far that hasn't worked out well, mainly due to the numerous aesthetic flaws in your teeth. It's hard to be confident when you're embarrassed of any chips, stains, or gaps in your smile. Maybe you want to get these problems addressed with cosmetic dentistry, but you're not sure where to start. Luckily, your dentist can help you explore the various options you have available to revitalize your smile. Here are just a few of the choices you have.
Teeth Whitening
Maybe you tried over-the-counter teeth whitening products in the past, but they didn't provide anything close to the results you wanted. Don't worry; your cosmetic dentist offers a bleaching treatment that's several times more potent than anything you can find in stores or online. Whether you elect to undergo your whitening treatment in the office or more gradually from the comfort of your own home, you can trust that you'll want to show your results off to the world.
Invisalign
Have you always wanted straighter teeth, but were deterred by the idea of wearing clunky metal braces? Thanks to Invisalign, you can achieve the straight smile you deserve without looking like a teenager again. These translucent plastic trays are worn over your teeth pretty much 24/7, except when it's time to eat or brush. Then, you can simply remove your trays and take care of your meals and oral hygiene at your convenience.
Porcelain Veneers
If you have multiple flaws in your front teeth, like gaps, chips, or severe stains, your dentist may recommend porcelain veneers. These super-thin ceramic coverings are bonded to the front surfaces of your problem teeth to mask all kinds of imperfections. Veneers can even correct slightly crooked or rotated teeth, earning them the nickname "instant orthodontics."
Direct Bonding
For minor chips or stains, direct bonding is the perfect solution. A more affordable alternative to veneers, direct bonding involves your dentist applying a putty-like composite resin material to your teeth. This color of this substance can be customized to either correct stains or blend in with the rest of your smile.
Digital Imaging
No matter what treatment you're undergoing, your dentist can use special digital imaging technology to generate your own "before and after" images of your procedure. If for some reason you're unsatisfied with the way your treatment might look, you can always talk to your dentist and maybe select another procedure.
While cosmetic dentistry choices can be a bit overwhelming, keep in mind that your dentist will always be more than happy to help you come to the decision that will best benefit your unique smile.
About the Author
Dr. Darrick Castleberry is a cosmetic dentist in Houston who has trained at the prestigious Las Vegas Institute for Advanced Dental Studies, the world's preeminent training facility for cosmetic dentistry. Using this experience, he can help you achieve the smile of your dreams. To learn more, or to get started on correcting your smile flaws, visit Dr. Castleberry's website.
No Comments »
No comments yet.
RSS feed for comments on this post.
Leave a comment