April 10, 2020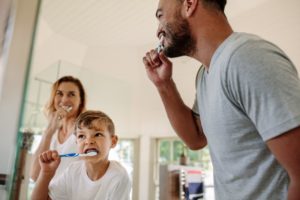 Now more than ever, hygiene is crucial. With so much of the world still in quarantine due to the COVID-19 pandemic, every precaution should be taken to keep you and your family safe, including practicing even safer oral hygiene. Though your oral hygiene regimen may not be the first thing that comes to mind when you think of spreading or contracting the virus, our oral hygiene appliances get covered in germs daily. This is especially true if you live with others.
Practice Safe Brushing
Each time you touch your toothbrush, you're transferring germs from your hand to the toothbrush handle. If you're unknowingly carrying the virus, you could potentially be spreading it to anyone else in your household who touches your toothbrush and then touches their mouth or nose.
To be safe, make sure to wash your hands before you brush your teeth. Additionally, rinse your brush in hot water after each time you brush. This will help to eliminate some of the bacteria passed on from your mouth. After you brush, make sure that your too
thbrush is standing upright, air-drying, and not touching the heads of any other toothbrushes that may be on your counter.
As an extra precaution, you may want to disinfect your toothbrush periodically. If your brush is manual, you can boil it for 5 minutes or run it through a dishwasher cycle. If you use an electric toothbrush, you can use Lysol wipes or similar cleaning products to disinfect your handle.
If you or anyone in your household becomes sick, discard all of your toothbrushes and replace them with new ones.
Using these simple adjustments, you can help protect your family and safely maintain your oral hygiene.
Make it A Family Affair
If you are part of a family unit, it's even more important to take precautions to keep everyone safe. This is especially true if you are the parent of a young child or live with an elderly member of the family.
To protect you and your loved ones, some recommendations are:
If you are a parent, make sure that your child's hands are washed before they brush their teeth.
Keep all toothbrushes in separate holders, spaced away from each other.
Take turns brushing your teeth or brush at least six feet apart from one another.
Avoid sharing things like electric toothbrush handles or WaterPiks without disinfecting them after each use.
If you have dentures or live with someone who does, make sure they are regularly disinfected.
The COVID-19 pandemic is a scary thing. Everyone wants to make sure that they and their families stay safe and healthy. With just a little bit of caution and adjustment, using these tips can help you and your family to keep your beautiful smiles as well as your health.
About the Author
Dr. Darrick Castleberry cares for the safety and health of each of his patients. A lifelong student, he has gone to great lengths to be able to provide the best care possible. He is constantly continuing his education at world-renowned training centers like the Las Vegas Institute for Advanced Dental Studies and the Misch Implant Institute. He takes great pride in using the best techniques in dentistry to give his patients comfortable, world-class results. If you have any questions about how you can safely practice oral hygiene during the pandemic, he and his team at The Castleberry Center in Houston are here to help by email or by phone at (832) 558-5990.
No Comments »
No comments yet.
RSS feed for comments on this post.
Leave a comment