August 31, 2020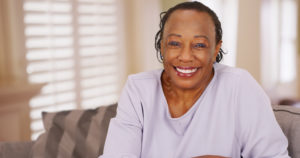 Dentures are a classic, affordable, and quick way to regain a full set of pearly whites. Modern dental technology and high-quality materials have made this traditional tooth replacement option more reliable, lifelike, and resilient than ever. Unfortunately, they don't last forever. You'll need to replace them eventually to keep both you and your mouth healthy. Here's how to tell if it's time for a new set of dentures and what your replacement options are.
Signs You Need to Replace Your Dentures
Your mouth naturally changes shape over time, especially if you're missing teeth. Unfortunately, these changes will cause your dentures to lose their fit, which can lead to discomfort and oral health issues. In most cases, properly cared for dentures will last for seven to ten years. A few tell-tale signs that it's time to replace them include:
They have chips, cracks, or other damage.
They've changed color or look dirty.
You have gum irritation or jaw soreness.
Biting and chewing have become uncomfortable.
Your dentures feel like they're loose.
What to Do If Your Dentures Are Damaged or Loose
So what should you do if you accidentally break your dentures or notice any of the above warning signs? Your first step should be to call your dentist right away. Even if your dentures aren't causing you discomfort, broken or ill-fitting dentures can collect bacteria and put extra pressure on your gums and jaw. Any time your smile doesn't feel as comfortable as it should, call your dentist right away.
After you describe your symptoms and the condition of your dentures over the phone, they'll schedule an appointment for you depending on how urgently your dentures need to be replaced. Unless your dentist recommends it, never try to fix your dentures yourself with a store-bought repair kit. You could easily end up causing more damage! Only a trained dental professional will be able to adjust or repair your dentures safely.
Permanently Rebuild Your Smile with Implant-Retained Dentures
While dentures are an excellent choice for some patients, others become very frustrated with them over time. If you're tired of or annoyed with your dentures, there is another option to consider: implant-retained dentures. This modern tooth replacement treatment utilizes dental implants to replace any number of teeth both above and below the gumline. By strategically placing several small titanium posts into your jawbone, a partial or full set of dentures can be anchored into place as if it were a natural part of your smile. Implant-retained dentures offer unmatched stability, comfort, and functionality that simply can't be achieved with a removable prosthetic. What's more, you can easily expect your implant-retained dentures to last a lifetime with the proper care!
You deserve to have a happy, healthy smile that you can't wait to show off. Pay close attention to the state of your dentures and call your dentist to see if implant-retained dentures are a good choice for you!
About the Practice
Whether you're missing one, a few, or all of your natural teeth, Dr. Darrick Castleberry has the advanced training and experience needed to restore your confident smile. He offers a variety of tooth replacement options, including traditional restorations like dentures or bridges as well as state-of-the-art dental implants. Thanks to his specialized training, he can even perform the dental implant placement personally instead of referring you to a specialist. If you'd like to learn more about your denture replacement options, feel free to contact him via his website or at (281) 320-9600.
Comments Off

on How to Tell If You Need New Dentures & What to Replace Them with
No Comments
No comments yet.
RSS feed for comments on this post.
Sorry, the comment form is closed at this time.