August 4, 2022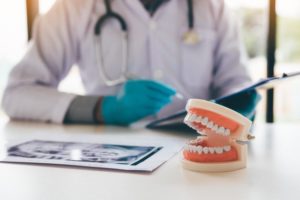 Dentures are one of the most popular options for tooth replacement due to their affordability, functionality, and natural look. They're ideal for patients missing several or all of their teeth and they offer a compromised smile a second chance to talk, eat, and laugh once more. That said, if you have missing teeth and are interested in receiving dentures, you might be wondering about their price tag. Here are three of the major factors that contribute towards the cost of dentures.
1. Necessary Preparatory Procedures
Sometimes a patient needs dentures to restore their missing teeth, but their mouth isn't quite ready to receive them. In some instances, a little bit of prep work is necessary first like a tooth extraction, gum disease treatment, or even a supplemental bone graft (if you're going to receive implant dentures). Needless to say, the more preparatory work that's necessary, the more you're going to end up paying. However, if these procedures are necessary for your oral health and you have benefits, your insurance will likely cover a portion of the costs.
2. Type of Denture
There are many different types of dentures—after all, they're used to address a variety of different situations! Your dentist will work with you to determine the best denture for your smile. That said, the type of denture you receive is going to dictate how much you'll spend:
Partial denture – This is ideal for patients who haven't lost all of their teeth. It consists of the necessary replacement teeth affixed to a gum-colored base that is then clasped to your remaining natural teeth. They usually run cheaper than the other options, as they aren't quite as comprehensive.
Full denture – Full dentures are used to replace entire rows of lost teeth—they typically rely on a combination of suction, adhesives, and muscle control to stay positioned. As with partial dentures, they can run on the cheaper side; but keep in mind that over time, they will need to be replaced themselves.
Implant denture – This is arguably the "best" type of denture in the sense that it utilizes the benefits of dental implants to provide unmatched support and stability. Implant posts are surgically placed into your jawbone that the dentures are then anchored to. It's the best and most expensive option.
3. Materials Used
The least expensive dentures are made from a brittle, pink plastic material (the teeth part is made of the same material but colored white). These denture teeth will wear down very quickly with use, and the body portion of the denture tends to crack easily. They're also notorious for being ill-fitting and uncomfortable. Simply put, you get what you pay for—you spend less up front but will likely have to pay to replace cheaper dentures more frequently.
However, a higher quality denture will have an acrylic body with special teeth made from either acrylic or porcelain material. Though these dentures are more expensive, they're noticeably more durable and lifelike. They will last roughly 5 – 7 years or so with proper care.
Don't let the cost of dentures deter you; your smile is worth the investment! That said, knowing what factors determine their cost will only assist you in making an informed decision about the best way for meeting your smile goals.
About the Author
Dr. Darrick Castleberry received his dental doctorate from the Meharry Medical College School of Dentistry and is a member of the Texas Dental Association, the Academy of General Dentistry, and a Fellow of the International Congress of Oral Implantologists. His dental practice in Louetta, TX is proud to offer several available services including dentures. If you have any questions about dentures or would like to arrange a visit, feel free to reach out online or over the phone: (281) 320-9600.
Comments Off

on 3 Factors That Affect the Cost of Dentures
No Comments
No comments yet.
RSS feed for comments on this post.
Sorry, the comment form is closed at this time.