July 19, 2019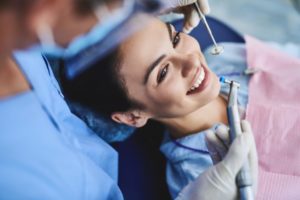 Whether it's due to anxiety or an effort to save money, many people don't see the dentist as often as they should. You'll be fine if you keep brushing and flossing the way your teachers in elementary school told you to, right? Don't be so sure; the truth is that avoiding these visits could negatively impact the health of your smile. Here's what could happen if you don't get regular cleanings from a dentist serving Houston.
You Could Be at a Higher Risk of Cavities
Everyone knows that the bacteria and food particles in your mouth can form plaque and eventually cause cavities. Brushing twice a day and flossing daily go a long way in removing plaque, but they don't necessarily guarantee you'll avoid problems. Many patients end up missing certain spots – such as the gum line inside the mouth or the hard-to-reach molars in the back – and inadvertently allow plaque to build up despite their best efforts. Worse still, if plaque isn't removed in time, it becomes tartar and can no longer be removed with at-home oral care, greatly increasing the chance of tooth decay.
A dental cleaning is very thorough and will remove any plaque and tartar you've missed. This can help you prevent cavities – or even detect them at their earliest stages so that they're easier to treat.
You Might Suffer from Gum Disease
Orla hygiene isn't just about protecting your teeth; bacteria in your mouth can also infect your gums. A gum disease will begin with redness and bleeding in the gums; eventually it'll reach the periodontitis stage, which can easily result in tooth loss. It's just another reason why it's vital for your dentist or dental hygienist to remove the plaque and tartar from your mouth.
Other Health Problems Might Go Undetected
While your teeth are being cleaned, the dentist or hygienist might find other troublesome symptoms in your mouth. For example, oral cancer – the sixth most common cancer in the world – could form red or white patches in the mouth, or it might leave a lump inside the cheek. The disease can be deadly, but survival rates are much higher if it's identified and treated early.
Other systemic diseases, such as diabetes, can have oral manifestations as well. By going to your regular cleanings, you make it more likely that these health issues will be identified in a timely manner.
Even if you think your mouth is in good shape, the health problems listed here could still be present without you knowing about it. That's why you need to see your dentist at least twice a year even if you don't think you need it. After all, modern dentistry is all about prevention.
About the Author
Dr. Darrick Castleberry has completed a General Practice Residency with the United States Navy and served over 3,200 Marines and Sailors on the USS Pelelieu in the United States Marines. He eventually returned to his hometown of Houston to open his practice, The Castleberry Center, where he helps patients feel at ease during the regular checkups and cleanings necessary to protect their health. To schedule an appointment, contact him through his website or call (281) 320-9600.
No Comments »
No comments yet.
RSS feed for comments on this post.
Leave a comment