September 18, 2019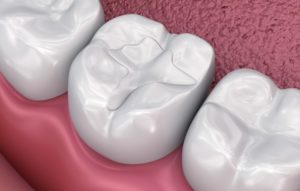 "You have a cavity" might be one of the most dreaded sentences in the English language. It means we have to get a filling, a procedure that is necessary but most of us don't enjoy. Therefore, we want our fillings to last as long as possible. Do fillings ever have to be replaced? What exactly is a filling in the first place? Continue reading below to learn the answers.
What Are Fillings?
Fillings are a way to restore a tooth that has been damaged by decay or trauma back to its original shape. When you have a cavity in your tooth, your dentist first removes the decayed material, cleans the area, and then places a filling material in the newly cleaned-out cavity. Once the affected area has been treated with a filling, bacteria can no longer infect it, preventing further decay.
Fillings can be made of a variety of materials. They used to be comprised of metals like gold or silver, or an amalgam of several different metals. Most fillings these days, however, are made of tooth-colored composite resin. This material can be color-shaded to match the rest of your tooth. That way no one will even be able to tell you had a cavity in the first place.
Do Fillings Need to Be Replaced?
The lifespan of your fillings is difficult to predict. How long they last is dependent on a few factors, such as:
Whether you clench or grind your teeth
The material of the filling
How well the filling was set in place
Typically, you can expect your filling to last between 5 and 15 years, depending on the factors listed above. There are a few reasons that your filling might need to be replaced.
If you consume a lot of foods and beverages that cause stains, your tooth-colored filling may absorb those materials. It may become more obvious that you have a filling, and you might want to get it redone for cosmetic reasons.
Your fillings are placed under a lot of pressure every time you chew. As a result of daily wear and tear, your filling could weaken over time. It may break or even fall out, which is considered a dental emergency. It's important to get a filling replaced as soon as possible in this case. Food particles and bacteria can get trapped in the now open cavity, causing further decay.
Fillings are a standard procedure, and so is replacing them. However, with daily brushing and flossing, you can drastically reduce your need for getting them in the first place.
About the Author
Dr. Darrick Castleberry is a Houston dentist serving Cyprus and Spring, TX. He has been recognized by H-Texas Magazine as one of the top cosmetic dentists in the country. He is a continuing scholar at the prestigious Las Vegas Institute for Advanced Dental Studies. If you think you need a filling, don't be afraid to contact Dr. Castleberry through his website or by calling (281) 320-9600.
No Comments »
No comments yet.
RSS feed for comments on this post.
Leave a comment