July 30, 2020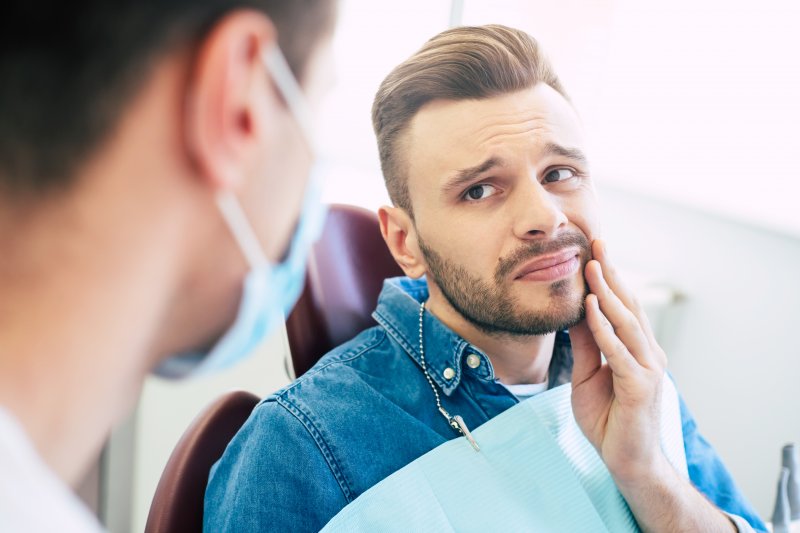 Summer is already halfway over, but the weather forecast says the heat isn't going anywhere anytime soon! To get some much-needed exercise in and blow off some steam, you and your friends decide to schedule a quick game of frisbee before work. All is going well until a rogue throw sends the frisbee straight into your front teeth. In near disbelief, you touch your mouth and realize you are missing a tooth!
Although this situation is anxiety-inducing, it is more common than you think. In fact, 5 million teeth are avulsed annually in sports-related incidents alone. To save your tooth and get the emergency dentistry treatment you need quickly, read on for the five steps of what to do with a knocked-out tooth.
Step #1: Locate the Tooth
To have any chance of saving your tooth, you need to locate it quickly. Since your tooth is small and can easily blend in with the ground, it can be beneficial to start looking in the direction of the impact. Make sure to step lightly, as to not accidentally crush it into pieces in the search. Once you have found it, pick it up by the crown (the chewing surface) to protect the root from being damaged.
Step #2: Treat the Area
Amid the chaos, you may not realize the condition of your mouth. To keep the area clean, it is important to remove any blood that has collected. Start by rinsing your mouth out with clean water. From there, you can gently bite down on a piece of gauze to control the bleeding until your appointment.
Step #3: Gently Rinse the Tooth
If your tooth got soiled from being on the ground, rinse it gently in a glass of water. If the tooth looks clean, then you can skip this step of the process. However, you should not hold it under running water or use a cloth to wipe it dry afterward. Again, this can damage the root of the tooth and ruin your dentist's chances of saving it.
Step #4: Attempt to Insert the Tooth Back Into the Socket
To protect the root, it is important to keep the tooth moist. Ideally, you can do so by inserting the tooth back into its socket and gently holding it in place until your visit. However, if it does not easily slide back in, then it is important not to force it. Instead, place it in a cup of whole milk or your saliva. This will prevent the tooth from drying out and becoming unsalvageable.
Step #5: Seek Emergency Care
Ideally, you should see your dentist within 30 minutes for the highest likelihood of saving your tooth. At their office, your dentist can properly clean and disinfect the area before beginning treatment. If for any reason it cannot be saved, then your dentist can recommend a restorative treatment option, like dental implants. Not only are they incredibly durable, but they can effectively fix gaps in your smile, restore your bite, and prevent the missing tooth from negatively impacting your speech.
Getting a tooth knocked out can be an anxiety-inducing, traumatic experience. Fortunately, you can follow the above five steps to act quickly if you find yourself in this emergency!
About the Author
After graduating from the Meharry Medical College School of Dentistry, Dr. Darrick Castleberry completed a General Practice Residency with the United States Navy. From there, he was an Amphibious Special Operation's dentist with the United States Marines, where he earned the nickname "Painless" because he erased his fellow Marine's dental fears! Today, he uses the same compassionate, professional approach to provide his patients at Castleberry Center with healthy, strong, beautiful smiles. If you find yourself in an emergency dental situation, contact him through his website or by phone at 281-320-9600.
Comments Off

on How To: Handle a Knocked-Out Tooth
No Comments
No comments yet.
RSS feed for comments on this post.
Sorry, the comment form is closed at this time.