May 18, 2020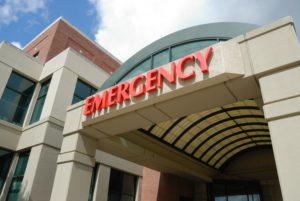 If you found yourself with a knocked-out tooth or intense toothache, where would you go for treatment? Recent studies indicate that an overwhelming number of people spend unnecessary time and money taking their dental emergencies to the ER. Due to the COVID-19 pandemic, it's more important than ever to know where to go if your smile needs immediate help. Here are four reasons you should call your Houston emergency dentist if you need urgent dental care during quarantine.
1.) You're Less Likely to Get Sick with COVID-19
The best way to protect yourself from COVID-19 is to practice social distancing. While emergency medical staff are working tirelessly to keep their offices clean, ER waiting rooms are notorious for being crowded, especially now. Your dentist is only treating dental emergencies, which means they can offer you treatment in a less-trafficked environment.
2.) Your Dentist Will Be Able to Treat You Sooner
Many issues that are treated at ERs require immediate professional attention. Emergency staff always do their best to see everyone in a timely manner while treating the most serious health concerns first. However, that means that you may have to wait a while. On the other hand, far fewer people will be seeking care from your dentist. It's very likely that your dentist will be able to treat you sooner than a busy ER doctor or nurse.
3.) You Won't Be Contributing to Overcrowded ERs
COVID-19 spreads very quickly and easily, and it can sometimes become life-threatening. This influx of COVID-19 patients alongside the regular volume of medical emergencies has led to a tremendous strain on the healthcare system. Taking your dental emergency to your dentist instead of the ER frees up the valuable time, effort, and attention of medical staff who can help these other patients.
4.) You'll Get the Specialized Dental Care You Need
Not every ER is fully equipped to handle dental emergencies. If there is no dentist on staff who can perform emergency dental treatments, the ER medical staff may only be able to mitigate your pain until you can visit your dentist. On the other hand, your Vintage Park dentist is able to perform emergency root canals, dental crown placements, pain-relief, and more in order to treat dental emergencies like:
Bleeding in your mouth
Broken or fractured teeth
Partially or fully dislodged teeth
Extremely painful toothaches
Severe dental infections
If you're unsure if you need emergency care or not, call your dentist right away. They can help you assess your situation over the phone and determine what steps you need to take next to get back to enjoying your happy, healthy smile.
About the Author
Dr. Darrick Castleberry is a graduate of the Meharry Medical College School of Dentistry and a member of several organizations, including the Academy of General Dentistry and the Greater Houston Dental Society. He also served as an Amphibious Special Operation's Dentist with the United States Marines, where his commitment to comfortable and effective dentistry earned him the nickname Dr. Painless. This dedication to his craft alongside the most advanced dental technology and advanced training allows him to provide the smiles of Vintage Park, TX with the exceptional dental care they deserve. If you are experiencing a dental emergency, don't hesitate to contact him via his website or at (281) 320-9600.
No Comments »
No comments yet.
RSS feed for comments on this post.
Leave a comment