December 8, 2019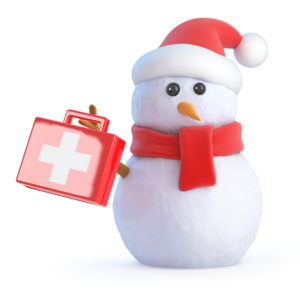 Dental emergencies can vary a lot, but they all have one thing in common: They almost always happen at the most inconvenient time possible. During the holidays, in particular, the last thing you want is to deal with an unexpected or painful dental problem. Especially if you can't get ahold of an emergency dentist right away. And while you can't always prevent emergencies, it's helpful to know a few tips and tricks to alleviate pain and keep them from getting worse until you can be seen. Keep reading to learn how to handle 5 common emergencies and get through the holidays with your smile intact!
1. Chipped or Broken Tooth
Use dental wax from the store to cover any sharp edges. Take over-the-counter medication for any pain and don't chew on that side until your tooth has been repaired.
2. Lost Dental Crown
If you lose either a permanent or temporary crown, start by rinsing it off and letting it dry (being careful not to drop it). Then use a small dab of dental cement from the store, denture adhesive, or toothpaste to temporarily adhere it to your tooth. Don't use any other type of glue or adhesive because it can damage your tooth or crown and make the dentist's job more difficult when you arrive for treatment.
3. Knocked-Out Tooth
Do your best to be seen within an hour. If you can't see a dentist in that timeframe for any reason, go to the nearest hospital or urgent care center. For immediate care, make sure to handle the tooth by the crown, not the root. Don't wipe or scrub it with any type of cloth, simply rinse it off.
From there, your best bet is to put the tooth back in its socket, facing the right way. If that isn't possible, put the tooth in a glass of milk or hold it in your cheek pouch. Although it's crucial to keep the tooth moist, only use tap water as a last resort.
4. Toothache
Start by swishing your mouth out with lukewarm salt water. To reduce swelling, pain, and inflammation, apply a cold compress to the outside of your cheek or lip and take over-the-counter pain medication as directed until you can see an emergency dentist.  
5. An Infection or Abscess
If you have swelling or a pimple-like bump on your gums, you may have an infection or abscess. In many cases, this is due to a severe cavity and is often very painful. Getting treated as soon as possible will not only relieve your pain but also keep the infection from spreading and becoming dangerous. If you can't see a dentist within a few hours, go to a hospital or urgent care center. While you're waiting to be seen, you can use over-the-counter pain medication and apply a cold compress to the area.
A dental emergency during the holidays can leave you feeling less than festive. But by calling a dentist right away and using these tips, you'll be out of pain fast so you can get back to having fun.
About the Author
Dr. Darrick Castleberry is an award-winning general and emergency dentist with decades of experience. He and his team make every effort to be available when their patients need them most, and existing patients can reach Dr. Castleberry directly at any time. If you're experiencing a dental emergency or have any questions, he can be contacted via his website.
No Comments »
No comments yet.
RSS feed for comments on this post.
Leave a comment